Hello, and welcome to our site!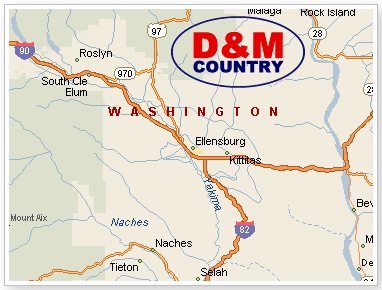 Whether you're broken down on the interstate, stuck in the mud, or have a dead battery in your driveway at home, D&M Motors and Towing is here for you and your family whenever you need us.
We are Kittitas County's premier towing service, offering 24 hour response for vehicles big and small.
We have been a family owned business since 1963. The towing department was implemented in 1969! Based in Ellensburg, Washington we are centrally located and can respond to your needs immediately.
All of our trucks are clean and non-smoking, so you don't have to ever worry about getting into a "dirty" tow truck. We are constantly improving our business with the latest equipment and training. We believe it is important to maintain the best possible standards in order to best serve our customers.
Our employees are encouraged to be presentable at all times, and to treat our customers with respect and professionalism. This is, in part, how we maintain our high level of excellence in the industry.
Our auto repair facility is capable of handling all of your maintenance and repair needs.
Please take a while to browse through our sites and enjoy the photo's we've included. These show just a small portion of our past experiences and capabilities. And thanks again for using D&M Motors and Towing!
D&M Motors and Towing ● 205 North Main ● Ellensburg, WA 98926 ● 509-925-4151